Regular price
KSh4,300
Sale price
KSh2,999
Unit price
per
Sale
Sold out

A

good tool

 for

multiple usages

. 

Easily

transfer any liquid

 with our car fuel tank sucker. With its durable construction and easy-to-use design, it's the perfect tool for any car owner
Effortless Fuel Extraction: The Fuel Tank Sucker takes the hassle out of fuel extraction. With its user-friendly design, simply attach it to your vehicle's fuel tank and let it do the work. No more manual siphoning or spills to worry about.
Safe and Mess-Free: Our Fuel Tank Sucker features a secure sealing mechanism that prevents fuel leaks and spills. The risk of fuel contamination and mess is eliminated, providing a safe and clean extraction experience.
Versatile Applications: Whether you own a car, motorcycle, boat, or other machinery, the Fuel Tank Sucker is compatible with a wide range of fuel tanks. It's a versatile tool that caters to the needs of mechanics, DIY enthusiasts, and outdoor adventurers.
Durable and Reliable: Crafted from high-quality materials, the Fuel Tank Sucker is built to last. It is resistant to fuel corrosion and can withstand repeated use, ensuring long-term durability and reliability.
Easy to use :
Good structural design,

lightweight, easy to carry, easy to use

, just connect the hose and the ball pump, and then use the yellow fitting to tighten.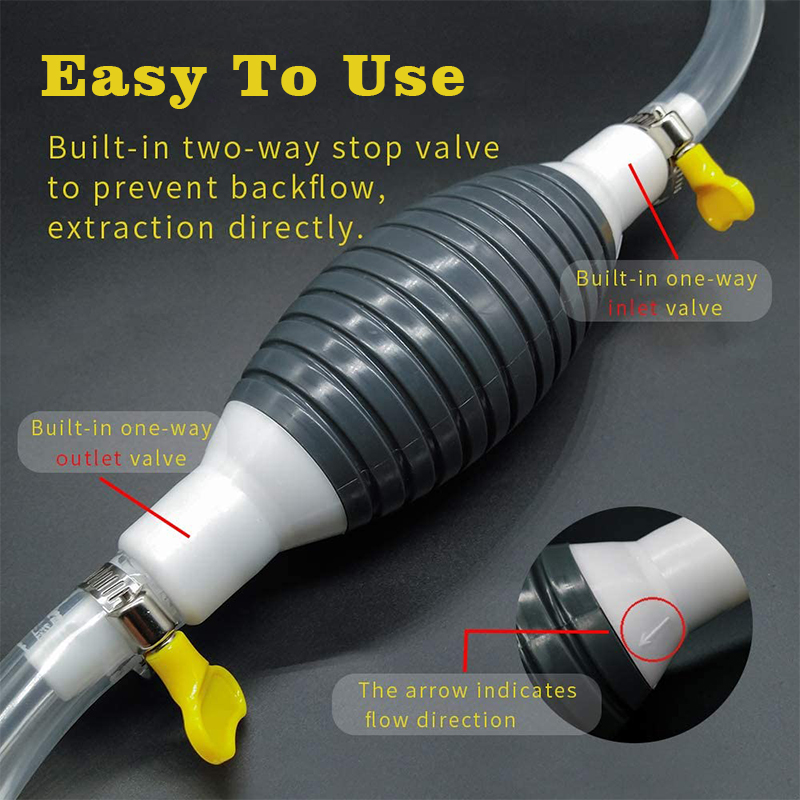 How to order :
All what you have to do is to pass your order and we will bring the products to your adress. The paiement is made after you receive your order.
The shipping is free !
30 Day money back guarantee
It's amazing the amount of pride and care they put behind making the customer #1 and taking great care of people.
With every purchase, you get a 30 days money back guarantee, so can try and use our products for more than a month before you decide if you're going to keep them.
View full details