Regular price
KSh3,700
Sale price
KSh2,999
Unit price
per
Sale
Sold out
Are you tired of compromising your health by consuming water filled with harmful contaminants?
Step into a world where nature takes charge of purifying your water and immerse yourself in the refreshing taste of pristine, clean water.
Introducing the Stone Water Filter, a revolutionary filtration system that harnesses the power of stones to create a truly transformative drinking experience.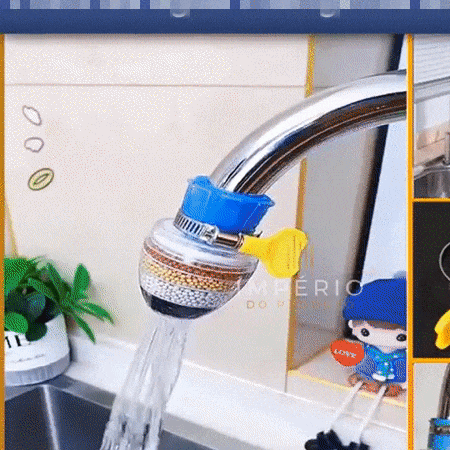 ✔  Faucet Water Filter : Built-in layered filter can separate coconut activated carbon, zeolite, PVA non-woven fabrics, calcium sulfite and rubber, which apply to purify hard water and well water.
✔  Widely Applicable : Suitable for most of long and round basin faucets, applicable faucet outlet diameter from 16-22mm.Applicabe tap: Single hole basin mixer, Double basin mixer, Shower, Bathtub faucet, Kitchen faucet.
✔  

Easy to clean

: 
Essential items for home and office use, 100% brand new and high quality. High temperature resistant and not easy to deform. To clean, just remove the filter and rinse with water.
✔  

Water saving

: 
It is made of soft rubber material to prevent water leakage and save water every time it is used.
✔

  Effective water filtration, 
water-saving and providing strong water pressure, try this water faucet filter, make kitchen chores easier!
✔ 

Improve water quality

:
Removes heavy metals from chlorine
 and other impurities in the water, improves the quality of the water, makes the water sweeter and safer.
How to use :
Q: What contaminants can a stone water filter remove?
A: Stone water filters can effectively remove sediments, dirt, rust, and larger particles from water. They can also help eliminate certain bacteria and protozoa..
Q: How often should a stone water filter be cleaned or replaced?
A: The frequency of cleaning or replacing a stone water filter depends on factors such as the quality of the water being filtered and the specific design of the filter.
Specification:
Color:Blue Pink Green
Material:PP,ABS
Applicable:Small mouth diameter for all kinds of nozzles (16 ~ 33 mm)
Product Size:8.5*3CM
Package Included:
1× Faucet Splashproof Filter

30 Day Money back Guarantee
We offer a 100% satisfaction guarantee on all of our products. If you're not completely happy with your order, simply return it within 30 days and get your money back.


View full details